Our family recently experienced the full-body VR at Sandbox VR San Ramon as their guests and LOVED it! Our participants included some teens (13, 14, and 15) and some adults (27 to 50ish) and every one of them enjoyed this unique experience (and the oldest was the winner!).
---
The author's family was hosted by Sandbox VR San Ramon to facilitate writing this article. All thoughts and opinions expressed are their own.
---
Sandbox VR San Ramon currently has 8 different experiences to choose from. For our first visit, we selected their newest option, Squid Game Virtuals, based on the popular Netflix show of the same name. The game fully immerses players in the games and challenges from the show, competing against each other to receive the highest score while surviving each game/challenge (without actually dying IRL lol).
Sandbox VR San Ramon is located at City Center Bishop Ranch, a beautiful modern public square filled with restaurants, stores, and more. Macaroni KID Tip: I highly recommend visiting the directory map to know the best area to park and visit Sandbox VR if it's your first time visiting, as it is a very large complex. You should schedule your visit before you go, as they can get busy on the weekends and you want to guarantee your family fun. Give yourself plenty of time to park and arrive 15 minutes early to check in and get into your gear and be ready to play. Macaroni KID Tip: The farmers market is in the parking lot every Saturday from 9 am to 1 pm and is quite large – taking up quite a bit of parking.
| | |
| --- | --- |
| | |
For Squid Game Virtuals, each player selects their own unique avatar, complete with the iconic tracksuit to complete the look and experience for competition in Squid Game challenges such as 'Red Light, Green Light' and 'Cross the Glass Bridge' to name a few. Your team chooses a team name (ours was Mystery Inc.) and gets started with a tutorial session to get comfortable in the gear and setting. The holodeck where you will be playing has cubbies in your space for you to put your personal items while playing. The high-tech equipment allows players to hear and interact with one another as well as hear your guide to help get you set up to play.
| | |
| --- | --- |
| | |
The VR tech is extremely good. Our group of six started playing and found themselves actually feeling like they were falling through the shattering glass to their death. There were fans blowing that gave a feeling of dimension and the gear was next-level technology. It's room scale and you can freely move around with the equipment tracking your entire body in real-time. The realism it creates is amazing and a super fun experience.
Playing Squid Game Virtuals, our participants would switch between working together and sabotaging each other at various times throughout the games. They had fun experiencing challenges they had seen on the show and some new ones. The game got their hearts pounding a bit and while they may have each perished several (ok, many) times throughout the experience, thankfully everyone walked out alive.
Once finished, you get to enjoy viewing a few videos of your gameplay and your end-of-play dance party selfies together, which they send to you to keep so you can enjoy your experience over and over again. Each player had their favorite challenges and they all finished the experience talking about what their next game would be and cannot wait to return to play again soon.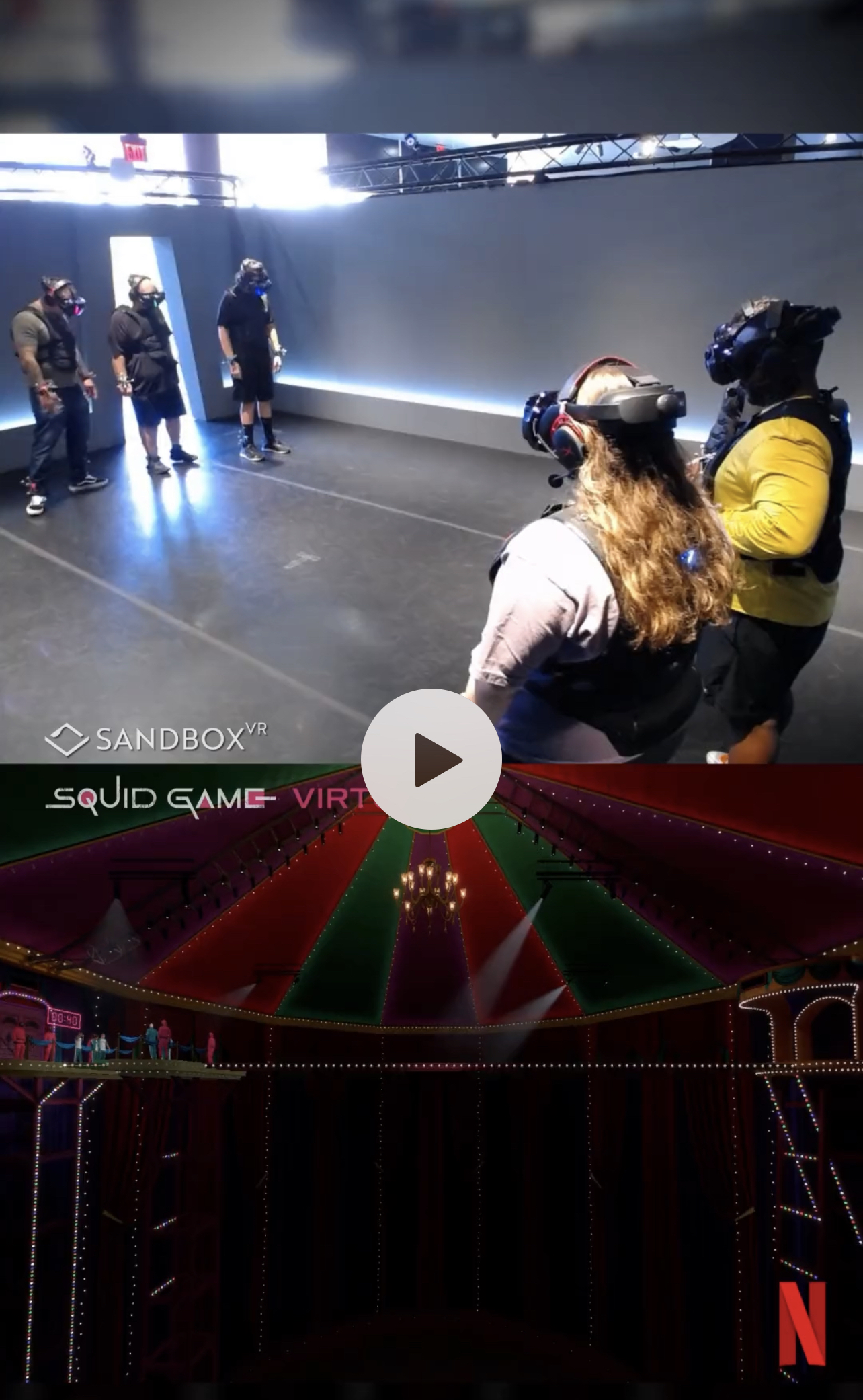 Other VR Experiences to choose from at Sandbox VR San Ramon:
Seekers of the Shard: Dragonfire - Journey through a world of fantasy and explore a ruined fortress, an underground river, a haunted tomb, and the dragon's tower
Deadwood Valley - Fight zombies with a range of weaponry
Amber Sky 2088 - Defend Earth against alien swarms with futuristic weapons and robot enhancements
Deadwood Mansion - Discover the terrible secrets of Deadwood Mansion and survive the zombies
Curse of Davy Jones - Work together as a pirate crew on the high seas against a variety of spooky supernatural creatures on a hunt for the long-lost treasure of Davy Jones
Star Trek: Discovery Away Mission - Engage in exhilarating shootouts using your iconic Starfleet Phaser
UFL Unbound Fighting League - Become a futuristic Gladiator and use your skills and weapons to battle your friends
Additional FAQ:
Games are for at least 2 and up to 6 people to play together. If you have a larger group, call them to discuss options.
Guests must be 48" or taller to play, able to support gear weight of at least 20 lbs. Guests under 18 years old need a parent or guardian to be present during the session.
Walk-ins are accepted based on availability. It is recommended to book your experience online to guarantee your reservation.
For additional FAQ, visit their website here.
Sandbox VR San Ramon is located at 6000 Bollinger Canyon Road, Suite 2401, San Ramon, CA, (510) 629-4906. Free parking available. Sandbox VR has locations all over the world – really! And in the Bay Area they actually have 4 locations - San Ramon, San Mateo, San Francisco, and Emeryville – so choose one and grab some friends and visit soon!