February is Black History Month, a time to recognize the important people and events in African-American history. But where to start? Here are 10 recommendations of what we're reading and watching with our families this month.
---
The 1619 project
About the series: Hulu's six-part 1619 Docuseries is an expansion of "The 1619 Project" created by Pulitzer Prize-winning journalist Nikole Hannah-Jones and the New York Times Magazine. The series seeks to reframe the country's history by placing the consequences of slavery and the contributions of Black Americans at the very center of our national narrative.
---
You Matter To Me
Abut the book: You matter. That's the message behind the book inspired by true stories called You Matter To Me. The new picture book was written by Doyin Richards, who has never shied away from having difficult conversations. You Matter To Me is told from the point of view of a recently adopted dog named Biscuit, who describes what it's like to go on walks with his Black owner.
Biscuit soon realizes that not everyone shares his feelings of love for his human. His human is Black, and some people in the neighborhood are scared by that. Some people hold their purses closer, or tighten their grip on their children's hands when Biscuit and his owner walk by. Biscuit wishes people would see his human as he does: With love.
---
42
About the movie: The story of Jackie Robinson, the first African-American to play Major League baseball in the modern era. Robinson wore the number 42 on his jersey.
---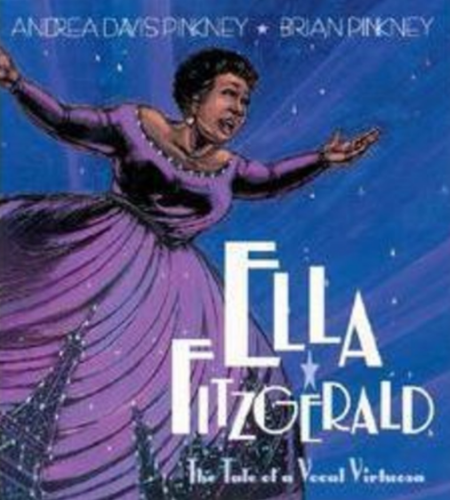 Ella Fitzgerald: The Tale of a Vocal Virtuosa
About the book: Ella Fitzgerald began her life as a singer on the stage of the Apollo Theater at 17. Her incredible voice has won her generations of fans around the world. Author Andrea Davis Pinkney tells Ella's inspiring story in the voice of Scat Cat Monroe — a feline Fitzgerald fan. The book's fantastical images are done by two-time Caldecott Honor winner Brian Pinkney.
---
Hidden Figures
About the movie: This award-winning film, released in 2016, tells the story of the important role black female mathematicians, who worked at NASA, played during the space race. It is based on the non-fiction book by Margot Lee Shetterly.
---

Monster: A Graphic Novel
About the book: Monster, which has won numerous prestigious awards, is a coming-of-age story by Walter Dean Myers about a teenager awaiting trial for a murder and robbery. He envisions how his life would play out on the big screen as he gets used to juvenile detention and goes to trial. Monster was adapted into a graphic novel by Guy Sims and Dawud Anyabwile.
---
Harriet
About the movie: The extraordinary tale of Harriet Tubman's escape from slavery and transformation into one of America's greatest heroes. Her courage, ingenuity, and tenacity freed hundreds of slaves and changed the course of history.
---

Becoming
About the book: This one is on our nightstand. Michelle Obama takes you for a journey through her remarkable life in this honest and witty autobiography, from her childhood on the South Side of Chicago to her time living at 1600 Pennsylvania Ave.
---
Wakanda Forever
About the movie: A touching tribute to one of our favorite superheroes, Chadwick Boseman.
---

This Jazz Man
About the book: This beautiful book will have you and your preschooler toe-tapping and finger-snapping in tribute to African-American jazz giants. The book is set to the rhythm of the classic children's song "This Old Man" and introduces musicians Charlie Parker, Louis Armstrong, Duke Ellington, Bill "Bojangles," and more.