Our family was excited about all of the recent snow up in Tahoe as we were soon to be headed there to spend the weekend with about a dozen Macaroni Kid families at Granlibakken in Tahoe City. We knew more snow was coming so our family headed up the summit early on Friday and had a beautiful drive. The snow was plentiful and the family fun even more so. We wanted to share the top 5 reasons to visit Granlibakken with you all!
1. Location Located just off Highway 89, not far from Highway 80, Granlibakken is just about 3.5 hours from Fremont in decent weather and without serious traffic. We do our best to head out of town early on Friday to avoid the traffic and with a leisurely breakfast stop before heading up the mountain, we reached Granlibakken by noon giving the kids the full afternoon to enjoy the snow for hours. Granlibakken is super close to town with great restaurants and shopping and large resorts for the more experienced skiers and snowboarders.
| | |
| --- | --- |
| | |
2. Snow Fun Once you arrive, you really can just park your car and enjoy all that Granlibakken has to offer. Easy access to a sledding hill, as well as a ski hill perfect for kids and families and it's half priced for Granlibakken guests. No need to bring your own sleds, as they have that included. You can also sign up for ski school, enjoy snowshoeing or cross country skiing on the trails around Granlibakken's 74-acre resort. And if the weather is milder, the whole family is sure to enjoy their Treetop Adventure Park (ages 5+).
| | |
| --- | --- |
| | |
3. Food Okay, so seriously, this should be the #1 reason... their hot chocolate is simply the best I have ever had! Silky and creamy and oh, so chocolately and amazing! But really!! In addition to the amazing hot chocolate which is available complimentary with their included hot breakfast buffet, you can also find it at Rusty's Kitchen by the sledding/ski hills. Breakfast is pretty amazing with eggs, sausage and/or bacon, oatmeal, cheese blintzes, yogurt, fresh-baked cinnamon rolls, tons of fresh fruit, bakery goodies, and did I mention the hot chocolate? It is a great way to start the day fueled up and ready for adventure. For dinner, we enjoyed the on-site Cedar House Pub which is conveniently located off the main lobby. Currently, on Thursdays and Sundays, they offer a two for one special on all entrees which makes it a great deal in addition to an easy answer about where to have dinner. They also have live music on Fridays and Saturdays. No need to drive anywhere. For lunch, the Pub is also open for burgers and hot dogs, etc., however, we enjoyed lunch after sledding at Rusty's Snack Bar which features some great Mexican and American food options as well as some kid-friendly choices. They even sell s'mores kits to enjoy s'mores by the outdoor firepits which the kids love doing!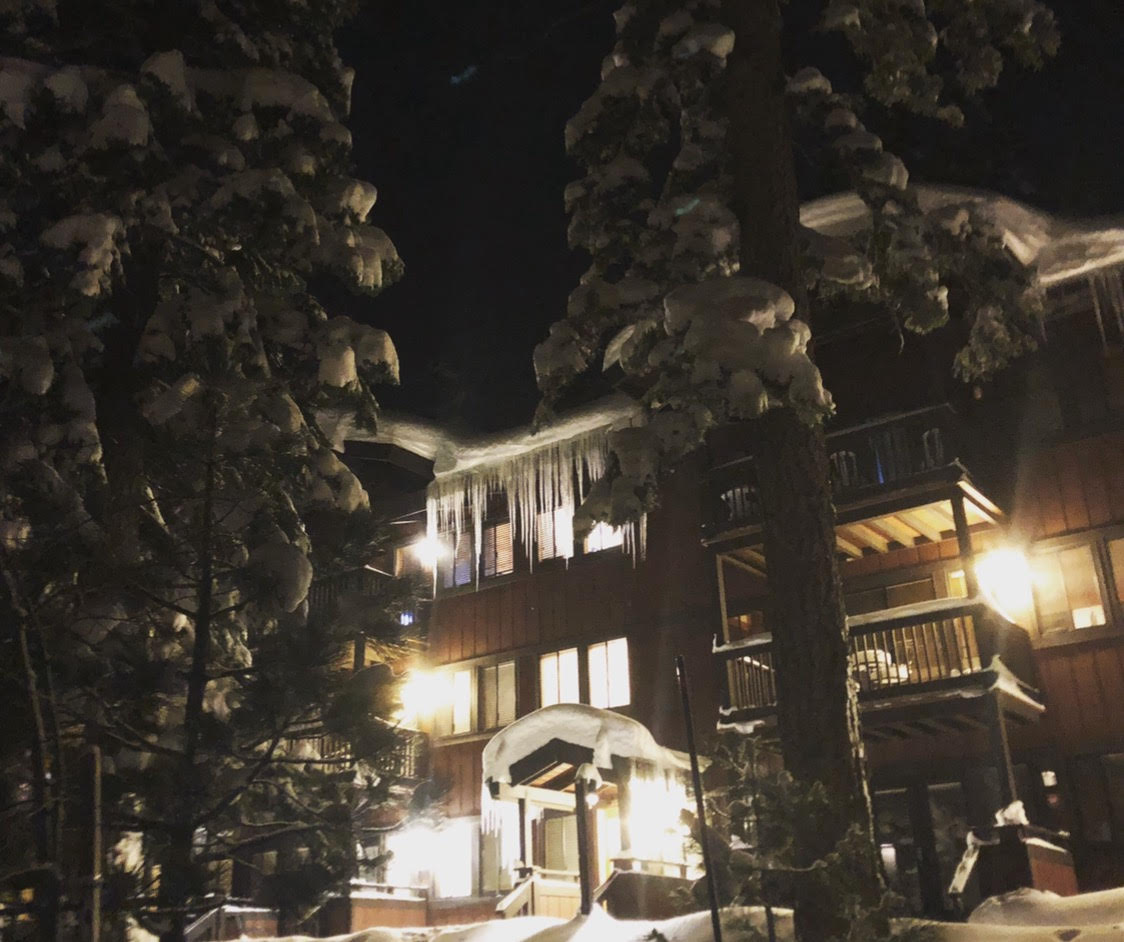 4. Variety of Lodging You will find traditional hotel rooms with one or two beds with plenty of closet space to hang your wet snow gear, a mini-fridge, microwave, and a coffee; studios with a little more space; standard suite with full kitchen with full sized fridge and separate bedroom; and two and three bedroom townhomes with plenty of space for extended family. This year we chose a standard suite and enjoyed the separate bedroom for us with a fireplace and two bathrooms for our family of four. It was nice to have a larger living room space to enjoy spreading out and giving us all a little more space to relax in the evenings.
5. Courteous and Friendly Staff From the front desk to the servers at the Pub to the breakfast staff, everyone was helpful and always friendly.
Granlibakken is a family owned resort serving up family fun and more. They can also accommodate family reunions, weddings, and conferences. I highly recommend a stay at Granlibakken for a family-friendly trip to Tahoe.
Check out a video of some of our photos from this weekend here!
The author and family enjoyed a discounted stay with some complimentary activities to facilitate this review. All opinions and experiences are those of the author.