Ready, set snow! This past weekend my family was invited to spend the weekend with several other Bay Area Macaroni Kid publishers at Granlibakken in Tahoe City.
A few weeks ago we started worrying that we might need to bring our bikes since the possibility of actual snow seemed to be a bit iffy due to the dry winter, but let me tell you, mother nature did not disappoint! We ended up with the most beautiful, fluffy snow and great sunshine to play in it all weekend long and Granlibakken was the perfect place to experience it all with our family and friends.
We were fortunate enough to spend two nights at Granlibakken so we had plenty of time to experience all the winter fun they have to offer on-site.
First, let's discuss location! Located just off Highway 89, not far from Highway 80, we were able to reach Granlibakken early enough Friday afternoon for the kids to jump right into the snow and start playing. One of our most favorite things was that the resort has so many areas where the kids could happily play in the snow for hours. Once hubby and I got too cold, we could head back into our warm room and still see the kids right outside the window playing, digging, building a cave - having the most fun playing in the snow possible. They have another great area where the kids played with other kids in the snow - right off the breakfast area with tons of windows so mom and dad could sit and enjoy another amazing cup of hot chocolate or coffee while the kids happily played in the snow.
| | |
| --- | --- |
| | |
In addition to all of the easy access snow play, Granlibaken has a sled hill and ski hill perfect for family fun and it's half priced for lodging guests. The sled hill is open daily from 9:00 am to 4:30 pm throughout the winter season and the ski hill is open 9:00 am to 4:30 pm Friday through Monday throughout the season and open daily during select winter weeks. You can also sign up for ski school, enjoy snowshoeing or cross-country skiing on the trails around Granibakken's 74-acre resort. And the kids are sure to love the Treetop Adventure Park (ages 5+).
We enjoyed the awesome complimentary hot breakfast buffet both mornings to start our day. Eggs, sausage and/or bacon, oatmeal, cheese blintzes, yogurt, fresh-baked cinnamon rolls, fresh fruit, the most amazing hot chocolate you will ever have, and so much more. It was really great to start the day fueled up and ready for adventure.
| | |
| --- | --- |
| | |
For dinner Friday night we went to the on-site Cedar House Pub conveniently located in the Main Lodge. And even better? They were offering a Friday night special of buy one entree, get one free! Hubby and I both ordered the same meal- the tri-tip steak dinner while the kids shared a kid's order of chicken tenders and french fries. Everything was hot, fresh, and tasted great and our meals came with a house salad and hot bread and butter. For lunch on Saturday, we shared some nachos at the Ski Hut Snack Bar which features some great Mexican food options, as well as some kid-friendly choices. If you are looking for more lunch or dinner options, there are several restaurants less than a 5-minute drive away.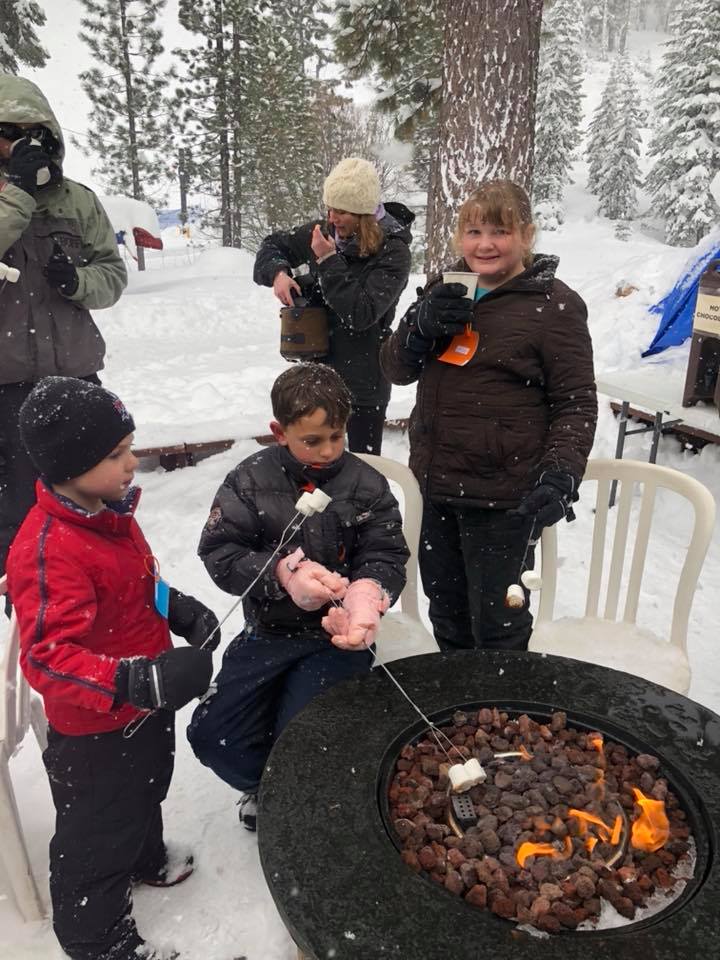 After a full day of sledding, snowboarding, and skiing, our group enjoyed making s'mores and drinking yummy hot chocolate at a firepit together which was the perfect end to a perfect snow day! They even sell s'mores kits at the Ski Hut Snack Bar. Granlibakken also has a swimming pool, sauna, and hot tub that are open year-round.
Let's talk lodging. We stayed in a traditional room which included two comfy queen beds with plenty of closet space to hang our wet snow gear. The room was clean and also included a mini-fridge, microwave, and coffee maker. They also feature studios and suites. Many of the suites can be used as separate rooms or opened into a suite which is perfect for larger families or groups traveling together, as well. And finally, they have townhouse units available with one to three bedrooms, living room, dining area, full kitchen, and a fireplace. All units have free wifi.
Since we were traveling with eight other families, Granlibakken arranged for us to use one of the ballrooms for a family game night on Saturday evening. The kids had a great time playing together while the adults enjoyed visiting with each other. We went to bed that night with the kids tired and content to have spent a full day of fun with their friends which made leaving after breakfast on Sunday just a tad bit easier!
If you are interested in a family-friendly trip to Tahoe, I highly recommend you visit Granlibakken.
The author was a guest of Granlibakken Lodge. Some activities were provided for the purpose of this review. All opinions are those of the author.